Our House Bitter Two Bees 3.9%
A distinctive beer with a full and satisfying finish.
Hardy & Hanson's Olde Trip 4.3% (Bury St Edmunds)
Rich toffee flavours bursting with fruit character and a clean finish.
Future Brewers/Greene King collaboration Dark Tide 4.7% (Bury St Edmunds)
A traditional English porter, described by as having a "gentle bitterness" with chocolate and coffee notes alongside hints of blackcurrant and spice.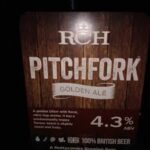 Golden Bitter with floral citric hop aroma, hoppy flavour sweet and fruity.
This beer is mainly about hops but we have given it a malt backbone to balance the beautiful tropical fruit.
A deliciously smooth pale ale. Bursting with flavour. This cracking beer is lovingly brewed with New Zealand hops, Pale Munich and Maris Otter malts.